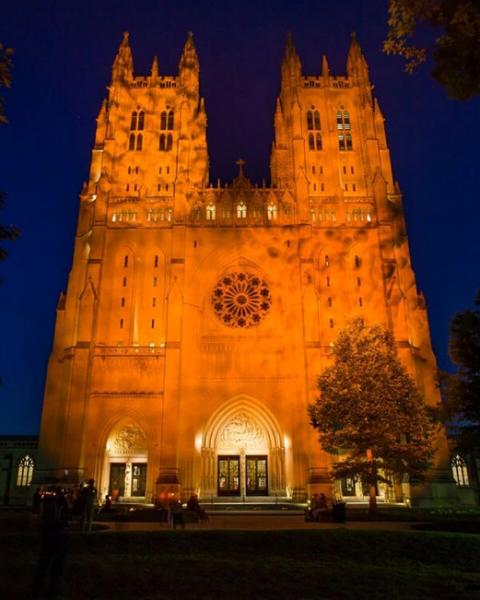 National Gun Violence Awareness Day Observed June 7, 2019, 8 pm, Cathedral Grounds
The façade of the Washington National Cathedral will light up in orange at 8 pm on June 7, in honor of National Gun Violence Awareness Day, Hadiya Pendleton and the more than 100,000 Americans killed and injured by gun violence in our city and across the United States every year.  

 The Bourdon (funeral) Bell will ring 109 times at 9 pm in memory of Americans who die daily from gunfire.   Join with others outside—at the west end of the Cathedral—for this quiet, respectful and powerful event at which you can remember and honor those who have died and reflect on the reason why the Cathedral and so many other buildings and people across the country are wearing orange.   

 The Wear Orange campaign began in Chicago on June 2, 2015, to honor Hadiya Pendleton, a 15-year-old Chicago high school student killed in 2013 by gunfire one week after she performed at President Barack Obama's second inauguration. Her friends decided on her 18th birthday, June 2, 2015, to wear orange—the color hunters wear in the woods to protect themselves and others.   The Cathedral is located at 3101 Wisconsin Avenue, N.W., less than a block from the intersection of Wisconsin and Massachusetts Avenues.  It is accessible via public transportation. Above-ground parking is available. The west end faces Wisconsin Avenue.