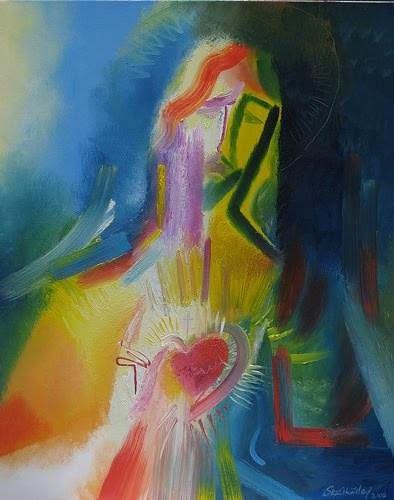 As we approach the celebration of the Feast of the Sacred Heart, our hearts are full. For weeks we have grappled with the uncertainty and physical isolation caused by the pandemic. In the wake of George Floyd's violent death and the cry for justice more publicly in our sights, we now hear more acutely the call to confront the virus of racism and injustice that continues to plague our world. As members of the Family of the Sacred Heart, we want to respond in the spirit of oneness with our God and with one another as we call out and hold accountable our broken, sinful structures that deny the dignity of our sisters and brothers of color.
Such action is impossible without prayer. As we seek to respond as one body acting in hope, we need to draw upon the spirituality of the Sacred Heart. Just as St. Madeleine Sophie, we find an inexhaustible source of strength, grace, and consolation in the Heart of Jesus. We offer this prayer video as a means to prepare for the Feast of the Sacred Heart. Our hope is that this preparation will support us as we anchor our hearts in Jesus Christ.
 
This year the Feast of the Sacred Heart falls on June 19th. June 19th or Juneteenth is the oldest nationally celebrated commemoration of the ending of slavery in the United States. It is also known as Freedom Day, Jubilee Day, Cel-Liberation Day, or the Black 4th of July. As we celebrate both the Feast of the Sacred Heart and Juneteenth, let us pray for the people in our world who are not free. The Global Slavery Index estimated in 2018 that there are roughly 40.3 million individuals currently caught in modern day slavery, with 71% of those being female, and 1 in 4 being children.
We encourage each person to view the video more than once and consider who we are being called to be as Sacred Heart educators. This reflection can also be found on our website under resources. We invite anyone who wishes to share a response to one or more of these questions to use this link: 
What would it mean to love as Jesus did?

What would it mean for me to have a heart like His?

How can my heart become more "sacred?"

How does the call to respect the dignity and sacredness of all God's creation influence my actions?
In our desire to be one heart and one soul in the Heart of Jesus, let us join one another daily in offering this prayer.
Most compassionate God, 
we honor the heart of your Son broken by human cruelty
yet symbol of love's triumph, pledge of all that we are called to be. 
Teach us to see Christ in the lives we touch,
to offer him living worship by love-filled service
to our brothers and sisters.
Prayer during Solemnity of the Sacred Heart
 May our common commitment to prayer allow us to deepen our courage to act with confidence. 
Irma Dillard, RSCJ, Margaret Causey, RSCJ, Suzanne Cooke, RSCJ