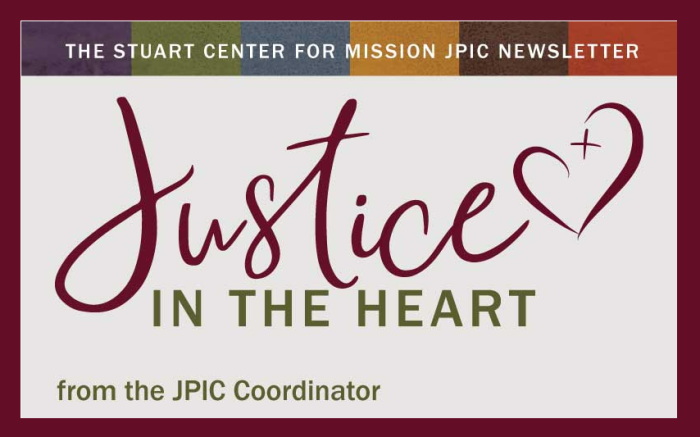 Dear Friends,
I write today in the midst of much activity! Much foundation-building has been happening in recent weeks for our province's JPIC Commission, among our national partners and coalitions, and exciting hopeful conversations about the future. Many exciting things are happening, and it is a good time to be doing this work. Stay tuned for more programs, events, and initiatives rolling out very soon! 
In a few weeks, in honor of Laudato Si' Week 2023, we will host a virtual screening of the documentary film The Letter: A Message of Hope for Our Earth. This film follows four people, hailing from Senegal, the Amazon, India, and Hawai'i, who come to meet with Pope Francis for a conversation, bringing with them the perspectives of the poor, the indigenous, the youth, and wildlife. This documentary follows their journey to Rome and the extraordinary experiences that took place there, and is packed with powerfully moving personal stories alongside the latest information about the planetary crisis and the toll it is taking on nature and people. All are welcome to join us on Friday evening, May 26, at 7 pm (ET) to watch the film together via Zoom and discuss it as a group. Learn more and register here. 
In other calendar news, the month of May is recognized as Asian-American / Pacific Islander Heritage Month in the United States and Asian Heritage Month in Canada. Below, please find a number of ideas and resources for honoring AAPI heritage and culture in our own communities this month, and ways we can stand in solidarity with AAPI communities facing racial discrimination and violence in both countries. I encourage you to peruse these resources to find some way this month to celebrate AAPI culture and communities, through art, culture, history, music, stories, friendships and love, and rejoice in the diversity of our community and the world.
In solidarity, 
Megan Wilson-Reitz
Justice, Peace and Integrity of Creation Coordinator
p.s. Do you know someone who might appreciate this newsletter? Pass it along! Did you receive this newsletter from someone else? Subscribe here! 
News from the Stuart Center for Mission: 
On Friday, May 26, join our JPIC Office for a virtual screening of the 2022 documentary film The Letter: A Message for Our Earth, in observance of Laudato Si' Week 2023. We will gather on Zoom at 7:00 Eastern time (8 pm Atlantic / 6 pm Central / 5 pm Mountain / 4 pm Pacific) to watch the documentary, followed by a brief facilitated discussion about the film. All are welcome! Register online here.
We now have stickers! Our extraordinary graphic designer Beth Ponticello has designed a number of exciting stickers to help spread the word about the Stuart Center for Mission's vision for justice, peace, and the integrity of creation. There are 15 sticker designs altogether!  Click here to see and request some for your own use!  
Ideas and resources for learning more about AAPI history, heritage and culture   
Looking for ways to honor and celebrate AAPI Heritage Month? Here are a few suggestions: 
1. Learn the history.
Read up on the history of AAPI communities, both within the US and Canada and in their home and/or surrounding countries. The best books are the one that are grounded in real history, folklore and cultural traditions that are true to the community/ies that are being discussed. Books offer insight, experiences and narratives that we may not discover any other way. Starting a book club or reading a few chapters of a book or a short story with a loved one is a great way to celebrate this month. For a start, 

click here for a list of 22 book recommendations from AAPI writers

.

Check out many great films featured this month on streaming services such as Hulu, Netflix, and Kanopy, all of which offer a curated list of selections for AAPI heritage month. 

Watch the five-part PBS documentary series 

Asian Americans

,

 streaming online on demand. This US-focused series includes personal histories and stories to provide context to the experience and impact of the fastest-growing demographic in both the United States and Canada. 
2. Take action against discrimination.
Stand in solidarity with AAPI communities who have been facing unusually high levels of discrimination, hate crimes and race-based violence in recent years.

Find a list of resources on 

fighting Anti-Asian Racism in Canada

 

here.

In the U.S., organizations like 

Stop AAPI Hate

 are doing excellent work to batlle anti-Asian discrimination across the country. 
3. Try traditional foods.
Use this month to learn about, try, or even learn to make foods from one of the dozens of cultures that make up the AAPI community. Look up a local restaurant, or download a recipe and try something new! 
4. Attend Events, Museums and Exhibits
There are many programs available, both in-person and virtual, for celebrating the arts and cultures of Asia and the Pacific Islands this month. Look in your local newspaper or online events guide for ideas, check out your local museums, look up music concerts, or peruse the bulletin boards at local libraries and shops for more ideas. Make a day of it! 

No museums in your area? Try a virtual museum visit! Many museums host virtual exhibits that you can visit right from your computer or tablet! Visit the 

Asian Art Museum

 in San Francisco, the 

Museum of Chinese in America

 in New York City, the 

Smithsonian National Museum of Asian Art

 in Washington, DC., the 

Toronto Asian Art Museum

, or the 

Virtual Museum of Asian Canadian Cultural Heritage

. 
5. Get curious.
How much do you know about your own Asian-American or Asian-Canadian family's story? The stories of your friends, colleagues, or others in your community? Are there stories they have been waiting to tell you? Get curious and ask those you love, from the heart, to tell you more about their own stories (if they want to do so, of course).
Announcements from JPIC International, Society of the Sacred Heart
.
Have you looked at the JPIC International Learning Hub lately? Click here for the latest review of new content added in April. 
Peace and Justice
TAKE ACTION: Add your name to the sign-on letter from faith leaders calling for a National Day of Prayer and Contemplation to Stop Gun Violence this Mother's Day, May 14th. 
TAKE ACTION: Tribal nations are working to advance legislation in the 118th U.S. Congress to establish a federal commission to formally investigate Indian boarding school policy and develop recommendations for further governmental action. Contact your member of Congress and urge them to start the healing process by passing the Truth and Healing Commission on Indian Boarding School Policies in the United States Act. Click here for more on this action item from the Friends Committee on National Legislation, and Click here to learn more about the National Native American Boarding School Healing Coalition's work on this and other initiatives. 
New podcast from the Franciscan Peace Center: "The Center" podcast focuses on promoting peace and active nonviolence within our local, national, and global communities. A ministry of the Sisters of St. Francis of Clinton, Iowa. Recent podcast episode topics include gardening and nonviolence; Black American Catholicism; ecospirituatlity; restorative justice; and more. Click here to browse all episodes. 
May 20: Racism in the Church and Religious Life: Sr. Anita Baird, DHM, will speak at the Notre Dame Center in Chardon, Ohio, from 9:30 am – 12 pm.  In-person and virtual options are available. Register here. 
May 20, 1:00 pm ET: Thinking Critically and Teaching about Peace in a Violent World: a live interactive teach-in. Join Fellowship of Reconciliation Wink Fellow Tabatha Holley to discuss nonviolent philosophies and the role of violence in global movements for liberation drawing on the methodologies of Walter Wink. Hosted by Auburn University and cosponsored by the InterReligious Task Force on Central America. Learn more and register here. 
Save the Date: National Gun Violence Awareness Day in the U.S. is June 2. This year, it is followed by Wear Orange Weekend to honor those killed and wounded by gun violence. Watch for announcements coming soon about a nationwide vigil against gun violence being planned for June 2 by the new coalition Nuns Against Gun Violence. 
Integrity of Creation
Laudato Si' Week 2023: May 21-28, "Hope for the Earth. Hope for Humanity." Click here for Global events sponsored by the Dicastery for Promoting Integral Human Development and facilitated by the Laudato Si' Movement. As part of our participation in Laudato Si' week, we will be sponsoring a screening of the film The Letter on Friday, May 26 -- see "News from the Stuart Center for Mission," below, for more details.
The United Nations Environmental Program's Faith for Earth organization is offering an 8-week e-learning course entitled "Faith, Environment and Climate Change." The aim of the course is to build the capacity of faith actors and empower them to address different dimensions of climate change and environmental challenges and contribute towards the attainment of the Sustainable Development Goals. This course is designed for religious leaders, faith-based organizations, civil society, non-governmental organizations, UN agencies, other multilateral institutions, government officials, policy and decision-makers and individuals interested in this subject. Interested persons should register at this link before May 21. 
Wholemakers integral ecology curriculum for young adults launches May 23rd!  Wholemakers is a new curriculum created for use in young adult ministry. It weaves together the latest climate science with insights from Catholic tradition to equip participants to become what Pope Francis calls "the protagonists of this transformation" for the world. It is developed for young adults and by young adults. The curriculum is intended to be used in high schools, college campuses, and small groups in parishes or other settings. The Wholemakers entire curriculum is available for free download at https://catholicclimatecovenant.org/wholemakers starting on May 23, 2023!
Thursday, May 25, 6:00-7:30 pm EDT: "Whose Earth is It? Decolonizing Ecotheology." In this lecture, Prof. Jawanza Eric Clark will discuss his book, Reclaiming Stolen Earth: An Africana Ecotheology. In this work, he argues that the problem of impending ecological devastation cannot be solved without a repudiation of the whiteness that created it. Sponsored by the Office of Peace, Justice and Integrity of Creation of the Sisters of Charity of New York; the Office of Peace, Justice and Ecological Integrity of the Sisters of Charity of Saint Elizabeth; ROAR (Religious Organizations Along the River); and the Metro New York Catholic Climate Movement. Click to download flyer with Zoom link. 
People of faith across the U.S. are invited to this summer's "Laudato Si' and the U.S. Catholic Church: A Conference Series on Our Common Home," a virtual gathering on Catholic ecological teachings and practices to be held over a series of evenings from June 14th - July 27th, 2023, co-sponsored by Creighton University and the Catholic Climate Covenant. Click here to learn more. 
 
Walking with People on the Move
Take Action: Yesterday, in a very close vote, the U.S. House of Representatives passed the Secure the Border Act of 2023, a sweeping immigration bill that fundamentally weakens the nation's decades-long commitment to humanitarian protection. The bill was strongly opposed by the U.S. U.S. Bishops' conference migration committee, among others. The bill now moves to the Senate. Now is the time to contact your Senator to urge them to vote NO on this legislation, and to contact your Representative to let them know your feelings about their vote. Click here to see how your representative voted on this bill.
In the Headlines: Driver Kills 8 at Texas Migrant Center as Border Prepares for End of Title 42 (May 8, Global Sisters Report, National Catholic Reporter)
Franciscan Action Network Webinar: Root Causes of Migration -- Wednesday, May 17, 4:00-5:30 pm Eastern time. Simultaneous translation in English and Spanish. Panelists: James West, international expert on forced migration; Fr. Rene Flores, OFM, a Salvadoran friar with experience accompanying migrants in Panama; an impacted person who is currently seeking entry to the U.S.; and Jean Stokan, Justice Coordinator for Immigration and Nonviolence for the Sisters of Mercy of the Americas. Register for the webinar here.
U.S. Catholic Sisters Against Human Trafficking will host a national conference in celebration of their 10th anniversary. Breaking Barriers to End Human Trafficking provides the opportunity to reconnect with friends and colleagues, share ideas, exchange information, and learn more about efforts to end human trafficking. The conference will be held September 28-30, 2023 in Chicago, IL and will feature Angela Reed, RSM and Christopher Thompson as keynote speakers. Learn more and register here.